Where to play online roulette with real money
Online roulette is exciting and convenient, giving you a chance to play at any time, from anywhere, using a computer or a mobile device of your choice. The thrill of online roulette will dramatically increase once you start playing with real money. The chance of winning big is very likely to give you an intense adrenaline rush. And although every roulette game has the same base rules, you can choose from a wide variety of roulette games: European roulette, American roulette, Mini roulette, Pinball roulette, live roulette, Multi Wheel roulette or Marvel roulette and play in a real money online casino.
The classic – European and American Roulette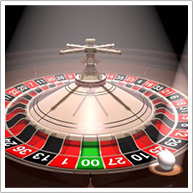 The classic varieties of roulette are the so called European and American roulette – very similar games widely available for real money play, with a slight difference. European roulette is by far the most popular roulette variety in both online and traditional casinos. The reason being that in this game, the house has an edge of only 2.7%, with a wheel with 37 numbers (only one zero). That significantly increases the odds in your favour, giving you greater chances of winning with every spin. That's why European roulette is the most played variety, especially when it comes to real money roulette online.
American roulette, as the name would suggest, is widely played in traditional casinos in the United States. It is very similar to European roulette, with the only difference being the 38th number on the wheel – the double zero. Unfortunately the extra number increases the houses' edge to 5.26% which is almost double in comparison. That means that the players odds of winning go down with every spin, but even so, a large number of players, mostly those that are used to playing in traditional casinos in the United States, still choose this variety of roulette when playing in a real money online casino.
888 Casino's Stunning Live Roulette will Take Your Breath Away – The Future Is Here Today!
---
Live Roulette

Since the beginning, online casinos put a lot of effort into proving that their Random Number Generator systems are fair and impartial. But many online roulette players just don't trust a computerised game when it comes to putting real money on the line. In order for online casinos to win over the skeptics, they took the next logical step in the evolution of online roulette – live dealer roulette. And since internet speed has globally risen to incredible levels, live streaming of roulette has become an enhanced experience not only for those that were skeptical of RNG's, but for every enthusiastic roulette player out there. Live dealer roulette is the closest you'll ever get to the experience of a traditional casino atmosphere without actually being there.
If you like to play live dealer roulette, we strongly recommend 888 Casino. It is a casino based in Gibraltar, with a unique gaming platform and special bonuses. Their live roulette section is especially good, with good looking and highly qualified dealers. When you play for real money they have some fantastic extra bonuses, for example if you play between 8pm and 9pm and ball lands on 8 – you win £8.
---
Multi Wheel Roulette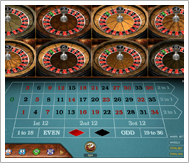 Multi wheel roulette is European roulette with up to eight wheels spinning at once. Just like traditional roulette, you try and predict where the ball will land on one or more wheels in each spin. You don't have to play all 8 wheels, just click on a wheel to deselect or select it. Although you can have up to 8 wheels, there is only 1 wager mat, meaning the chance of your number or sequence coming up can be up to 8 times higher. After all active wheels have stopped spinning, they will zoom in to show you where the ball landed. Afterwards, all winning bets are paid out and all loses are collected. But, be very careful when placing a bet on a multi wheel roulette table. Although there is only one board, if you play all 8 wheels, the amount you bet is multiplied by 8.
---
Pinball Roulette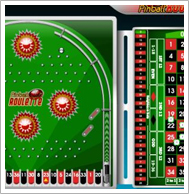 The Pinball Roulette's bets will be very familiar to anyone who has played traditional roulette. However instead of a wheel to determine the number that wins, a ball is fired and it hits several pins and bumpers until it lands in a pockets with numbers on. The movement of the ball is supported with realistic physics and multi ball bonuses are available – meaning that in some rounds you'll be able to double or triple the winnings by getting a chance to play with several balls at once. Pinball Roulette is available to play for free in several places, but if you want to play with real money, go to Betfair online casino. It is a very exciting game, and almost every player that has ever tried it will eventually come back to play again.
---
Mini Roulette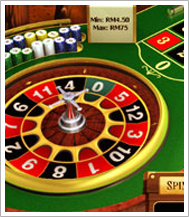 Mini roulette is a relatively new version of the popular casino game. It is a simplified variety of the European roulette, with 12 numbers (plus a zero), with the outside bets being the same as the regular roulette game. This enables online players to implement various strategies, but none of them have proven to be effective in the long run, as mini roulette is basically a game of chance. The lower number of combinations is what makes this game very popular when playing with real money, but you should be very careful because this might not be as great value as it first seems. While the standard European roulette has one house-friendly zero (giving them a one in 37 advantage), and the American roulette has two house friendly digits (zero and double zero – two in 38 advantage), mini roulette has only 13 spots on the board (one of them being zero), which bring the house advantage to 1 in 13, or a whopping 7.69%.
---
Marvel Roulette
The Marvel Roulette is a special game associated with the super heroes of the Marvel Universe. You will get a chance to play real money roulette online and at the same time feel like Tony Stark, Captain America, Wolverine, The Hulk or Superman. Marvel Roulette is a standard European roulette with numbers from 0 to 36, with standard betting rules, but also a special feature – The Mystery Marvel Bonus round. If you manage to back the ball to land on the special square, you will win a chance to play 3 free spin on a 3-reel single line slot machine. When spinning the slot machine, if you match 3 Marvel symbols, you will win a special cash prize along with a multiplier bonus of up to x100! The best thing about this game is that even an unsuccessful spin at the main roulette table can get you a chance in the bonus game. You can play the Marvel Roulette for real money at any time at the Ladbrokes casino.