Best online casinos to play real-money Blackjack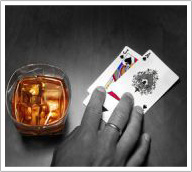 Blackjack is one of the most popular card games in real money casinos. And there is a very good reason why seasoned gamblers love to play blackjack online for real money. It's not just a game of chance, but one that requires skill, strategy and persistence. When you decide to give blackjack a go in a real money casino you will feel like you've sat down on a table in a Las Vegas casino, experiencing all the excitement that goes along with it.
When it comes to playing online blackjack for real money it is important to know what kind of limits are set for each table (both minimum and maximum); the variation of the game offered by the real money online casino (because different varieties require different strategies); and the bonus requirements in place. Blackjack is a game that offers a chance to win big in a real money blackjack casino.
You Really Do Have To Be Mental To Miss Out On Crazy Blackjack at 888 Casino – Free Cash Awaits…
Play Principle
Playing blackjack online for real money is fairly simple. You sit down at a table and play a hand against the dealer. The goal of the game is to beat the dealers score by getting as close to the sum of 21 , without going over 21. An Ace is valued at either 1 or 11; the cards numbered 2 to 9 have their face value; while 10, Jack, Queen and King are all counted as 10 points. The suits of the cards don't have any meaning when it comes to blackjack. Your main goal is to take cards until you are as close to 21 as possible, without "busting" or going over the limit of 21. In order to do so, you must use the basic strategies of real money blackjack, at which we'll take a closer look.
Hit, Stand, Double and Split
The most important terms in the game of blackjack are "hit" and "stand", because they are the defining elements of play. When asking for a hit, you are telling the dealer to place another card on the selected playing position. On the opposite side of the spectrum is the term stand. This means that you don't want any more cards; this means that you are satisfied with the total sum of cards in front of you, and you are waiting for the dealer to reveal their hand. The term you don't want to hear (or read) is "bust", meaning that you've gone over the magic number of 21 and have lost your wager.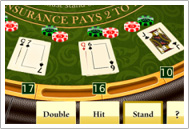 When dealt matching cards (suits not important) in real money blackjack, you have an option to "split". This means that you can divide the cards in two separate hands and play them independently. This is highly recommended if you get two eights, which is the worst hand you may be dealt in the game. One of the most profitable options is the "double." This is a chance to increase your wager, when you only have two cards in front of you, allowing you to get just one more card. For example, if you are dealt a total of eleven (a 7 and a 4), against the dealers 5 or 6 up card, you should increase the bet, as you have a great chance of winning.
Insurance and Sidebets
Insurance is a great option in real money blackjack to break even, if the dealer has a good hand in front of him. That means that if his up card is an Ace, you will have a chance to place an insurance bet – up to half of your original bet. Afterwards, the dealer reveals their other card and if he has a blackjack, the insurance bet is paid out at 2:1 odds.
Some real money casinos offer side bets as well, as is the case with Crazy Blackjack over at 888 Casino. You can place a "safe bet" allowing you to get a winning hand even if the total sum is low (up to 16); a "highest hand bet" predicting the highest value of a multi hand play; or a "777 Jackpot bet" placed on a hand where you need to get 3 sevens from only 3 cards – if you draw 3 sevens of spades the winnings go through the roof (30,000:1)!
Dealer Decisions
When you start to play blackjack online for real money you need to understand that there are rules in place for how the dealer acts in the game, from which they may not stray. Like the player, the dealer is also dealt 2 cards. Their goal in the game is to reach at least 17 or bust trying. It's important to note that an Ace in the dealer's hands is always counted as 11, but only if that means that they won't go bust. So if they have an Ace and an 8, that would make 19, so they must stand. But if the Ace is paired with 5+7, that would mean that the Ace is a 1 and they must hit again.
The key difference between blackjack varieties in online real money casinos is the "soft 17 rule". In some cases the dealer stands on a soft 17 (an Ace and a 6), but in other cases the rule is that they must hit again.
Some Special Blackjack Variations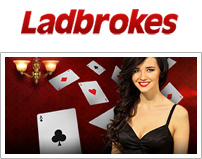 £500Welcome Bonus14 Blackjack Games
Claim here
Some exciting new variations of real money blackjack are available to play in online real money casinos. These variations include Blackjack Switch and 21 Duel Blackjack. The sets of rules slightly differ from the standard game, but that difference is what makes them that much more exciting.
Blackjack Switch is a game that was invented in 2009 and it gives players a chance to play two hands in each playing position. After the cards are dealt, the player may choose to switch the top cards, increasing the chance of each hand being a winning one. So if you have a 10+6 and a 5+10, you may switch the top cards to get 10+10 and 5+6. Afterwards you hit, hoping that the total sum will come to 21 on the second hand. Key difference in this variation is that the dealer doesn't bust with 22, but rather "pushes" or ties with all other player hands, except a blackjack that hasn't been switched or split.
21 Duel Blackjack is another variation of real money blackjack that is very exciting to play. In this variation, the dealer gets two cards face down, while the player still gets one face down and one face up. Two community cards are dealt in the middle, and from those two cards the player and the dealer must choose one to complete a winning hand. If the player pairs up his face up card with one community cards and then wants to hit, he must open the face down card. The dealer also must follow specific rules for this variation of real money blackjack.
Both exciting variations of blackjack are best playable at Ladbrokes casino, where you will be offered great play conditions and the best bonuses associated with Blackjack switch and 21 Duel.